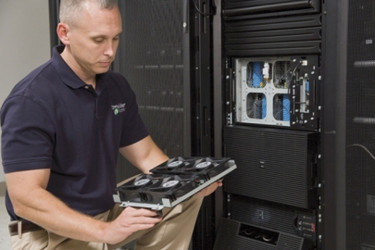 Have you recently invested in a UPS solution? You made the right decision. However, investing in a UPS is just the beginning. As important as it is to bankroll a UPS in order to protect your business-related critical data and more , maintenance of your UPS is just as important and will ensure a reliable, fully-functioning and the longevity of your UPS. Still not convinced about the importance of maintenance for your UPS?
Here are 5 reasons why maintenance of your UPS is of the utmost importance:
1.Preventing Failure Induced Downtime
Maintaining the UPS will help to alleviate the risk of failure induced downtime. Let's say you have a product being manufactured in the assembly line, and a sudden power outage or fluctuation occurs. Your product(s) whilst being manufactured could end up faulty and costing you thousands of dollars to restart the entire the process of production anew. This could all happen if your UPS is not able to immediately do its job when needed. Maintenance can ensure that your UPS will always be up and ready to perform no matter what.
2.Prevent Loss of Data
Data centers are reservoirs for sensitive, personal and confidential information. Lags in power puts businesses-critical infrastructures such as data centers at risk of loss of data and exposure to viruses, hackers and malware. A fully-functioning UPS guarantees a peace of mind that your business-critical information is secure during any sort of outages, fluctuations or natural disasters .
3.Ensure Optimal UPS Efficiency
There are two simple things that can be done routinely that will safeguard your investment. Firstly, a UPS requires precision-controlled temperatures, humidity and cleanliness. Routinely maintaining the environment where the UPS is stored and checking all alarms and indicators are recorded and reported correctly, all optimize the efficiency and longevity of your UPS.
Secondly, a carefully structured maintenance program must be curated at the time of purchase. Unlike cooling systems which require semi-annual visits, an annual preventative maintenance visit is satisfactory. Service of all the UPS major parts include; the UPS, battery and generator if present; must be conducted. A maintenance visit includes:
A full inspection of the UPS's critical instruments
Meter readings are checked, recorded and verified for accuracy
Local and remote monitoring panels are checked
Communication channels are evaluated
Indicator lights are checked for correct status indication
The environment surrounding the UPS is assessed and corrected if need be
Temperatures are checked in the room where the UPS is stored
Degradation of any critical components are identified
Battery assessment is conducted
At Custom Networks , are expert engineers help you build a custom maintenance program tailored to suit your busy schedule. Let us worry about your UPS so you don't have to.
4.Optimize Battery Health
Batteries in a UPS are designed as standby batteries, over-time, cycling them often, weakens them. When Valve Regulated Lead Acid batteries (VRLA) are used in a UPS system they operate in 'float mode.' This means the batteries continuously trickle charge to ensure maintenance of full charge. When the UPS requires the battery backup power in either frequent short or infrequent long periods, this results in the discharge of the batteries. Many deep discharges of a battery will eventually shorten their life expectancy.
Hence, it is recommended that batteries are inspected every 12 months to allow accurate prediction of a battery's working life. The inspection will include impedance and load testing to give a full report on the health of the batteries inside the UPS.
Battery impedance testing measures the resistance generated by a battery in an electrical circuit and is the most convenient and easy way to test the health of a UPS battery. This prevents any serious complications and ensures faults are rectified before they become a potential danger.
5.Conduct Emergency Repairs
Even with a well-maintained UPS, unpredictable failures may occur. Custom Networks provides an emergency call-out service. We provide different levels of emergency coverage available at varying costs to suit all levels of budgets. 24/7/365 days of telephone service is also available because we understand the importance of a UPS and its critical nature. Hence, we provide this exclusive service to our customers to ensure you get a good night's sleep.
Regular maintenance may seem like a hassle. However, it safeguards your investment by ensuring that when nature, an outage or fluctuation comes calling, you have a reliable piece of equipment that will not cause any headaches, rather it will take those pains away. A carefully structured maintenance program will guarantee an efficient and reliable UPS throughout its lifetime.
For more information about your comprehensive maintenance plans calls us at 978.392.0060, ext. 111 or email us at sales@customnetworks.net.For more product information please visit us at https://www.customnetworks.net/.