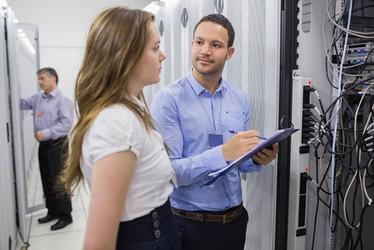 The processes that used to work for backing up data centers may no longer be sufficient, and companies shouldn't want to wait to find out they're lagging behind the times. Create a disaster-ready enterprise with the tools that make surviving a sudden power loss easy.
While size, location and proximity all still play a role in management, and can dictate how a response plan goes, what has changed is the sophistication of the various cloud options available and how companies can integrate them into their infrastructure. Martin Rose, CIO of Pinellas County, Fla., explained some of the changes and new advantages in a recent CIO Review piece.
Businesses now have more options, and can choose the cloud services that benefit them the most. That versatility is also there in the range of power interruption protection systems organizations choose from, Rose said.
As cloud software advances, businesses may very well recognize the need to evolve their continuity plans to keep up with new advances. The trade-off could be a greater need to minimize downtime and keep operations consistent.

Business 2 Community suggested that organizations assign specific downtime amounts to every system to determine a better reaction plan for organizations. Higher priority elements could require power restoration more urgently than others, demanding businesses to take them seriously. This specificity can also factor into cost estimates for disaster plans, as businesses plan around their most devastating potential power losses.
Two very important steps can help improve a business' approach to power solutions: one is an audit to develop an accurate look at what the company's uninterruptible power supply requirements are and the other is the use of a battery backup system that matches specific needs. These can also extend to the accessories needed to set up these systems in business centers.